Roof Cleaning
It's time to invest in your roof - and let curb appeal follow! Ad Astra Softwash delivers a low pressure roof cleaning solution that will turn your exterior into a success story. And it starts from the very top.
The Solution for Black Streaks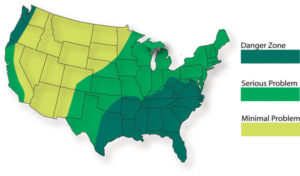 Your home looks picture perfect… except for those black streaks staining your roof. Sound familiar? This is a common scenario in our region, and we can thank our climate for it.
Those stains are caused by a type of algae called Gloeocapsa Magma. This buildup is a living organism - and it loves the composite in your roofing. As it eats, it spreads across your roof. Cue the eyesore.
But here's the issue. Black streaks aren't just an eyesore. They also actively degrade shingle quality. Our soft washing solution will:
Safeguard the longevity of your roof
With a routine roof cleaning service, your roof can last for 10 years or more.
Bring out better curb appeal
A spotless roof sets the tone for a great first impression - and one that lasts.
Ensure insurance compliance
Many policies require that you maintain your roof, or they will fine or even void it.
Prevent infestation
In addition to black streaks, mold can be a common factor on your roof. We remove the buildup so it doesn't creep into your home.
Our Low Pressure Washing Service
Your roof needs the right balance in every cleaning service. It requires a complete clean - but it can't bear the power of conventional pressure washing. That's where we prove that we're true to our name. Ad Astra Softwash specializes in a low pressure washing service called soft washing. This will:
Remove dirt and stains
Kill mold, mildew, and other bacteria
Brighten your shingles
Protect their long-term quality
When you invest in routine roof cleaning, you're investing in the best - for you, for your property, and for your investment. Get the curb appeal your property deserves with our professional solution!